Why reporting your bad landlord or slumlord is the first thing you should do.
All Landlords in Maryland are required to ensure that residential property has Minimum Livability standards. Your City or County most likely has a local Housing Code Enforcement and Inspections Agency that is responsible for investigating complaints. If they find violations, then they will cite your slumlord for the issues. If your slumlord does not fix the issues within a certain number of days they can face criminal or civil penalties. After reporting your slumlord consider hiring an attorney to send your slumlord a demand letter to fix the issues, or taking the steps necessary to file a rent escrow claim in your local District Court.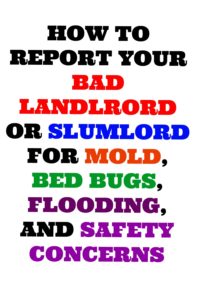 What happens if my bad landlord or slumlord tries to evict me or harm me after reporting him or her?

If your slumlord tries to evict you after reporting valid housing code violation, then they may be liable for a retaliatory action counter-claim. Tenants that prevail in a retaliatory action claim may be awarded up to three months rent and reasonable attorney's fees.
Instructions For Using The Find My Local Housing Code Enforcement Agency To Report My Landlord or Slumlord List

Although your city is located in a county. It may have its own local code enforcement agency. For example, residents of the City of College Park should contact College park code enforcement instead of Prince George's County code enforcement. As a general rule, check to see if your city has a local code enforcement agency before calling your county. By clicking on the name of your city or county you will be linked to that department's website so you can get more information. I did my best to find the best number to call for each agency, and if you click the numbers on mobile devices, your device will be prompted to make a call.
Please note that this list is a work in progress, so if any numbers are wrong or if links do not work please use my contact form to notify me so I can update the list. If there is an agency that I missed, please notify me so that I can add it to this list. I want this list to be as up to date and as accurate as possible to help tenants in need.
Alphabetical List of Local City and County Maryland Housing and Code Enforcement Agencies

The Pendergraft Firm Helps Tenants Fight and Recover Against Bad Landlords and Slumlords

After reporting your bad landlord or slumlord, the next step is to consider taking legal action against your landlord for relief. Attorney Brian Pendergraft has helped many tenants face bad landlords and slumlords and their legal teams. Call him at 301-205-9013 or e-mail [email protected] for a free consultation!>