Title Attorney Located in Prince George's County Maryland
Brian Pendergraft is an independent title attorney for Pride Settlement & Escrow, LLC. Through Pride he is able to help his clients obtain affordable Title Insurance on their homes. His office is located in Greenbelt, MD, which is a great location for real estate closings in the Prince George's County Area.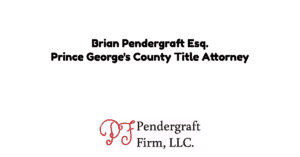 What is Title Insurance and Why Do You Need It?
As crazy as this sounds, whenever someone buys a house there is a chance that they may not have bought the house. Whenever a buyer buys a house, he or she can only purchase what the seller rightfully owns. For a number of reasons, a seller may not rightfully have owned the entirety or any of the property that he or she conveyed. Title insurance protect buyers in the event they have purchased a defective title to property. In my opinion title insurance is a must for anyone purchasing property for any reason. For homeowners, the cost to protect title is extremely low in comparison to the cost of the house. For real estate investors who buy and sell property for a living, title insurance is essentially business insurance.
How much does title insurance cost?
This is entirely dependent on the property being insured. A $40,000 property costs less to insure than a $400,000 property. Contact me and I will be able to let you know after my company and I do an analysis!
Settle With Pride & Pendergraft!
Brian Pendergraft can help you Settle With Pride and get title insurance on your next real estate purchase. Call (301)-205-9013 or e-mail [email protected] to schedule a consultation.