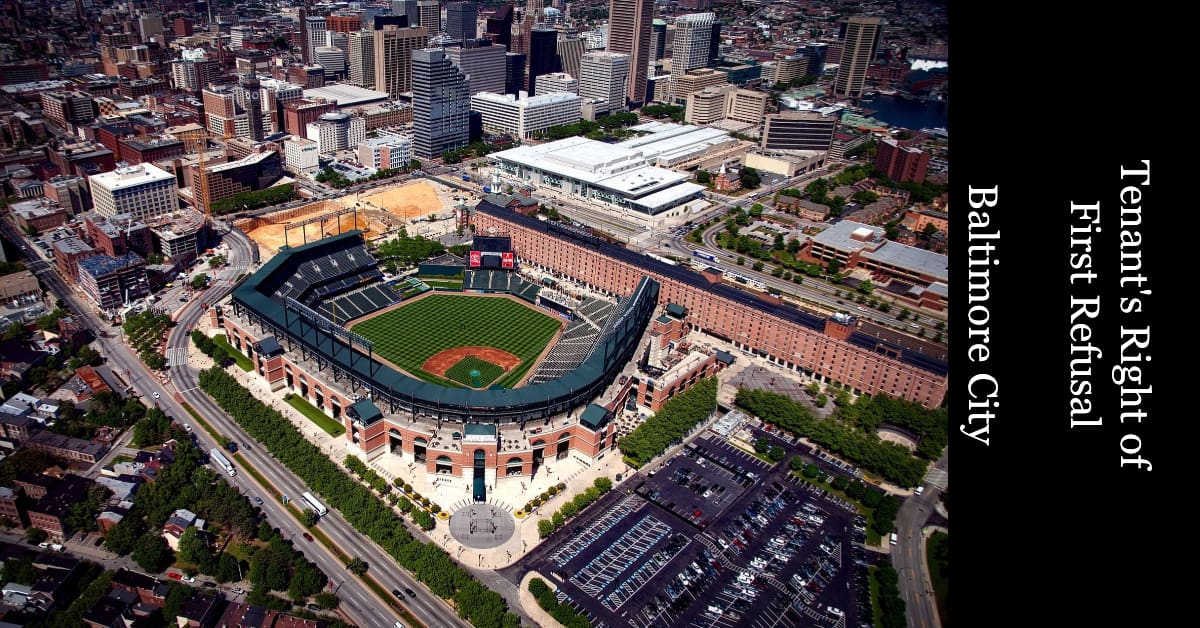 What is a Tenant's Right of First Refusal In Baltimore City?
Tenant's right of first refusal in Baltimore City means that before a landlord sells a property located in Baltimore City to someone other than the tenant, she must make an offer to the tenant at commercially reasonable terms. In other words, the tenant must be given an opportunity to purchase the property first.
Do Commercial Tenant's In Baltimore City Have The Right of First Refusal?
No, not by law. This law only mandates a right of first refusal for residential tenants.
What Law Governs Tenant's Right of First Refusal in Baltimore City?
That would be the Baltimore City Code, Article 13 on Housing and Urban Renewal. Specifically, Subtitle 6. on Tenant's Right of First Refusal.
That is the source I am using to write this article. That said, here is my disclaimer. This article is for general informational purposes only and is not a legal opinion or legal advice. If you have questions about compliance as a landlord or your right's as a tenant contact a real estate attorney that practices in Baltimore City.
Are There Penalties or Fines if a Landlord Does Not Their Tenant An Opportunity To Purchase?
The law: "if a landlord voluntarily transfers title to a single-family residential rental property without complying with the provisions of this subtitle, he shall be guilty of a misdemeanor and shall be subject
to a fine of up to $500."
Explained: The landlord can be found guilty of a misdemeanor and fined $500. But wait, there's more…
More law: "Provided that each failure to comply with a particular provision of this subtitle shall
constitute a separate violation of this subtitle and shall be considered a separate offense.
Explained: The landlord can be found guilty of multiple misdemeanors and fined multiple times for a single transaction.
Who Is A "Landlord" and who is a "Tenant"?
The law actually defines what a landlord and tenant are under the act. In short, the landlord is an owner or anyone entitled to receive rent. A tenant is anyone entitled to the benefits of possession. Tenants also include the last person(s) that have lived at the property for the last 6 months. So ex-tenants can be considered tenants.
The main point you should take away from this is who is considered a "landlord" or a "tenant" is broader than common sense would have you believe.
What Remedies Do Tenant's Have To Enforce Their Opportunity To Purchase?
A Tenant can file a lawsuit against their tenant for injunctive relief to enforce their right to purchase.
So What Does The Landlord Have To Do To Comply?
Send a written offer of sale to the tenant via first-class mail receipt return, with a copy to the Department of Housing and Community Development.
The offer should contain significant terms such as the price.
Contract must comply with the subtitle. For example, settlement cannot be in less than 60 days, tc..
Tenant has 30 days to notify the landlord of acceptance in writing via first class mail and accept the contract.
If a landlord enters a contract prior to giving the above notice, he must notify the tenant of the contract in writing. The tenant has 30 days to match the terms and if she does, her right to purchase supersedes the prior offer;
Tenants that are using a Federal, State, or Local program to finance their purchase must notify their landlord of the name of the agency in writing;
If the tenant accepts the landlord's offer or matches the third parties offer, the landlord must provide the tenant with an executed contract within 10 days;
Tenant has 10 days to sign the contract and return it to the landlord
What Happens If A Landlord Contracts With A Third Party For Less Than The Amount Offered To The Tenant?
Landlord must notify the tenant via first class mail (and keep the receipt). The tenant has the right to match the terms and purchase the property.
How Are You Getting Away With Breaching You Contract With The Third Party To Sell To Tenant?
You're not if you're doing it right. This law requires contracts with third parties to include a contingency regarding the tenant's right of first refusal. This contingency allows the landlord to cancel the contrac
In What Situations Is a Landlord Exempt From Giving A Tenant An Opportunity To Purchase?
A landlord does not have to give a tenant an opportunity to purchase when:
Transferring to a child, parent, spouse, sibling, or in-laws;
Transfer via will or inheritance under the Estates and Trusts Article of the Maryland Code;
Gift to a charitable, religious, or benevolent, tax exempt organization;
Transer of title in a deed of trust or mortgage;
Transer to a government agency;
transfer by a personal representative from a decedent's estate made in the course of the
administration of the estate;
transfer of title in lieu of foreclosure of a mortgage or deed of trust;
transfer of, or for the sole purpose of creating, a reversionary (ground rent) interest, if the
leasehold is retained by, or was not owned by, the transferor;
a transfer of title by a bona fide gift to a relative of the transferor or relative of the
transferor's spouse as defined by the § 267(c)(4) of the Internal Revenue
Code;
When the property is listed by a good faith third party broker and tenant is provided notice in the proper form prescribed by the Code;
For more situations check see the Code.
What Are The Required In Contracts and Offers?
The contracts and offers must include…
The tenant's rights;
Settlement date can't be less than 60 days.
If tenant is using government program assistance, it can't be less than 90 days
Cash deposit cannot exceed 7% of sales price, unless…;
The buyer is using gov. program assistance. Then it cannot exceed the programs requirements.;
Landlord cannot prohibit the tenant from using government program assitance;
Landlord shall excuse tenant from performace if he is unable to obtain financing within 60 day time period;
Landlord cannot require tenant to apply for financing in less than 7 banking days.
Need Help Complying With Tenant's Right of First Refusal in Baltimore City
Whether you need help with your notice or contracts, The Pendergraft Firm has got you covered. Don't hesitate to contact us.
Facebook Comments